The 12 Most Popular PMP Study Materials for your PMP Exam Preparation
Based on the original article from our friends of prepcast.com here is an overworked and actualized overview about the most popular study materials you are able to use for your PMP Exam Preparation.
It is your turn to choose the materials which fits your learning preferences and behaviors best and with this overview we want to support your decision:
1. PMI's Guide to the Project Management Body of Knowledge (PMBOK® Guide)
PMBoK® Guide is the essential PMP exam preparation tool. About 75% of the exam questions are based on the content out of the PMBoK® Guide! It's the foundation that everything else is built on. This is per defintion the most popular study material, simply because it is mandatory and every PMP aspirant has to study it (not only read!)! Remember that PMI members get a free PDF copy of the PMBoK® Guide!
But look, the PMBoK® Guide isn't a book which you can (nor you should) just read from cover to cover (well, of course you can, but you will not like it this way, trust us). Furthermore you have to study und fully understand it's contents like all the Knowledge Areas, Process Groups, the 47 projectmanagement processes and how they are interrelated and inderdependent. Don't worry, you will ... for sure.
Regarding the right handling of the PMBoK® Guide please refer to the "complete guide" which will assist you: PMBoK® Knowledge Areas for Project Management Guide 5th Edition - Process Groups and Processes - The Complete Guide

additional readings:

☛ How to remember PMI-isms from the PMBoK® Guide
☛ PMP Exam Tips: Always use the PMBoK® Guide's approach, when answering

---
These are also known as PMP exam study guids and you should use them in addition and complementary to the PMBoK® Guide. They cover the same materials (and mostly structured in the same way) as the PMBoK® Guide, but in more accessible language. They often explain the concepts in ways that are easier to understand and to learn. They also cover some topics which are NOT explained in the PMBoK® Guide but nethertheless content of the PMP exam.
Our recommendation for you is, to use at least one but better two of the available prep books out there. Every author has it's own approach and you have to decide which one fits you best. So try to have a sample reading before you buy some.
Our experience is, that Rita's and Head First PMP as a double would be a good choice. Rita's has a more scientific approach while Head FIrst is more for the creatice thinkers out there. But finaly it is your choice - of course ...
Here are our Prep Book recommendations (in no particular order):
We will provide you detailed reviews to all those prep books in near future, so please stay connected (for instance you may subscribe our newsletter and so you can't miss any updates on our site).


additional readings:

☛ PMP Exam Tips: Study and Understand your Books!
☛ PMP Exam Tips: Don't use too many PMP Exam Prep Books!

---
3. PMP Exam Courses - live or online?!

Training courses come in many varieties. You could attend a course online or live in a classroom. You could study at your own pace (self-study) or with an instructor. You could choose a boot-camp (most often 3 to 5 days) or to study over many weeks. Look for a PMP exam course that will give you the required 35 contact hours!
Regarding the differences between "contact hours" and "PDU's" and how to obtain those 35 "contact hours" which are requirement for PMP application please refer also to our complete guide: "The Complete Guide to PMP 35 Contact Hours of Project Management Education"!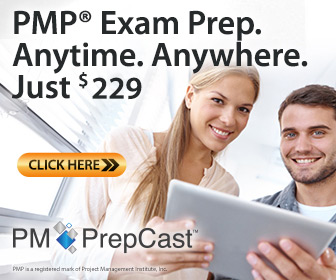 We will provide you more guiding about the pro's and con's regarding the different course options. But if you already know that you are the type of guy for self-studying and self-paced learning, well than we could recommend you the "PMP PrepCast" by Cornelius Fichtner", cause we have used this one for PMP preparation by our self.
It is a fully prerecorded (nearly 140 video and audio lessons!), self-paced online training course which also provides you the 35 contact hour certificate, which you will need for your PMP application.

You may have a look here:☛ "PMP PrepCast" by Cornelius Fichtner"
To get a glimpse of what you could await, there is a free version available: ☛ Free Prep Cast

additional readings:

☛ 7 Steps Selecting your Online PMP Exam Preparation Course
☛ Five Reasons to attend a PMP Exam Boot Camp to pass the PMP Exam!
☛ Five Awesome Reasons NOT to take a PMP Exam Boot Camp!

---
4. PMP Exam Simulators and sample questions
With the help of professionell Online PMP Exam Simulators and/or sample questions/mock exams, you are be able to shine a light on your weaker areas. Taking sample exams via an exam simulator will help you assess your readiness for the real exma. You can find a ton of free questions online, but you have to be cautios about the ressources of that questions. Yes, theire is good free stuff out theire, but this is rare. A lot of the free available sample stuff is often of bad quality or even missguiding or just wrong.
Free questions are also often done in a way that the real exam never would. For instance: theire are often answering options like "all of the above/none of the above". You will never find this type of answer in the real eaxam. So, please be aware of that ind of questions!
We would strongly recommend to invest some bucks and sign up for a professionally created simulator from a PMI Registered Education Provider (R.E.P.).
We know and recommend the exam simulator by Cornelius Fichtner and our friends from the prepcast crew which provides you ✪ 1.800 high quality PMP questions and which gives you ✪ high flexibility in how to train your questions up to max. ✪ 9 fully timed exam simulations, each with ✪ 200 individual questions.
You may have a look here: ☛ PM Exam Simulator Full Version
To get an idea of what you can expect, please use ✪the free/trial version to try out: ☛ PM Exam Simulator FREE version
additional readings:

☛ What is a PMP exam Simulator?
☛ A PMP Exam Simulator will help you pass the PMP exam!
☛ A PMP Exam Simulator assesses your readiness for the PMP exam!
☛ 7 Criteria for Selecting the Best PMP Exam Simulator

---

Podcasts can be in audio or video format. A PMP podcast is very easy to carry around with you and has the benefit that you can listen to or watch it wherever you are. Some of these are so elaborate that they actually fall into PMI's Category F ("distance learning") for PMP Exam preparation courses and even offer 35 contact hours.
---
Flash cards allow you to study and memorize the concepts that you need to know for the exam. You can make your own and carry them with you at all times, so you can test yourself in spare moments. Another alternative is electronic cards that you can use on your mobile phone or tablet and care withyou where ever you go.
additional readings:

☛ 10 Reasons to use PMP Exam Flash Cards as a PMP Study material
☛ How to get PMP Certification using this four studying techniques

To see all the 12 most popular study materials please login >>>
pmp_admin

replied the topic:
#55
2 years 11 months ago
Hello Christine,

first of welcome to pm.plus and thank you for your contribution! Highly appreciated!
Unfortenatly you are right; the links have worked until about a week ago when suddenly our sort-URL provider broke down.

We have repaired all the links on this page here now.
Please report of you do recognize still a link not working.

We will update all the links all over pm.plus, but this will take a bit more time.
We do apologize for all the inconvience you may have experienced and we hope you will stay here with us and will do much more contributions in future!

Thank you very much again.

Kind regards,

admin
christine.m.sanchez@kp.org

replied the topic:
#54
2 years 11 months ago
Hello, this seems like a nice forum to be a part of, however, none of your links work. They go to the following error page/link:
error404.000webhost.com/
?
Please confirm when this is anticipated to be updated/corrected.
Thanks,
pmp_admin

replied the topic:
#24
3 years 2 months ago
Hello,

please leave your comments and critic to this articlle here.
May be you also have some suggestions for additional study materials or alternatives to the already provided?!
Please let us know and we will actualize and develop this article, so it stays relevant to all the new pmp aspirants out there!

Thx a lot in advance